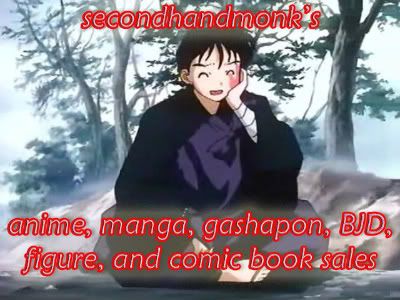 The Laydown:
~ all items here are pretty cut and dry-
I don't negotiate on prices unless you are buying alot of things. Alot of things isn't 2 or 3 items, and shipping will still depend on the size of the package.
~ I will do trades, but not all the time.
~ All sales are final.
~ Serious buyers only, please. I won't give you the runaround. Please treat me the same.
TRADES
I will accept trades at this moment ONLY for the following items:
Gashapon/trading figures/toys/merchandise from the following series:
Gundam Wing, Card Captor Sakura, XXXHolic, Trunks from DBZ, Ranma 1/2, InuYasha, Kuroshitsuji, Avatar: The Last Airbender, Shugo Chara, Pandora Hearts, 07-Ghost, Full Metal Alchemist: Brotherhood
MOST TEENAGE MUTANT NINJA TURTLES THINGS. From the TMNT CG movie, or the 2012 Nickelodeon series. Might accept some other TMNT stuff too, just let me know what you have!
PAYMENT
I accept the following payments:
~ PAYPAL ONLY. Sorry, too many people didn't follow through in the past.
I do not take concealed cash or check. Checks take too long to cash, and cash is too risky. I do not want to be the one on the end of missing money or a bounced check.
SHIPPING AND HANDLING
S&H is not included in prices unless stated in the item's description.
Prices for items do not include shipping, but I always judge shipping prices fairly (I don't charge $6 to send 1 book).
Your final shipping price also includes the cost of materials that I will pack your item in, be it bubble envelope, box, or foam.
If you have any other questions about my policies, please comment here.